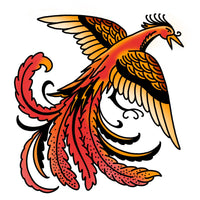 Why a Phoenix?
Ancient legend paints the Phoenix as a magical bird constantly being reborn through fire.  Emerging from the ashes, radiant and shimmering, to start a beautiful new life. 
Continually morphing and redesigning itself, the phoenix represents the idea that the end is only the beginning. A cycle of beauty; reinventing ourselves.
What better way to represent the ART of metalsmithing?  Bringing ordinary objects back to life by using fire to recreate and intensify natures beauty. 
Testimonials
Love this! The design is attractive, the stones beautiful, looks good on any length chain...and goes with anything! SOOO nicely made! Very pleased

mlzait
Lovely Earrings! Received Quickly. Packaged with care. Thank you!

S. Hope
My husband surprised me with a custom set of bangles for Christmas. They are absolutely beautiful and the detail work is amazing! I will cherish them forever!

J. Ringgold